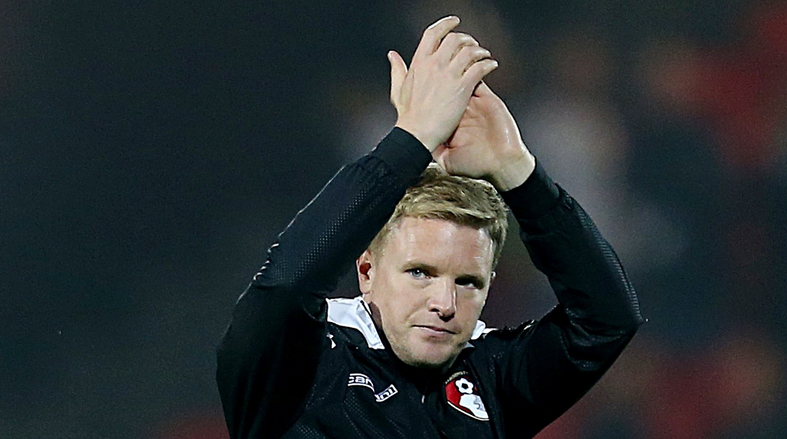 Transformations on the Touchline
In a world of English football managers are pressurised for results and solutions more than ever, the turnaround of poor form is often forced to be a quick one or they are looking at the merry-go-round once more as their head is on the chopping block, here I look at 3 Championship managers that have impressed this season.
Firstly I have hit the obvious one: Eddie Howe, although Bournemouth's resources are no longer small fry and last season they were in the play-off hunt all the way to the final day no-one really expected the Cherries to be a title contender.
As I mentioned, the resources are larger than they were in Howe's first spell in charge but the bigger budget will always bring larger pressure and by no means guarantees success. After the 2013/14 season Bournemouth could have crumpled, they could have regressed as a team people have worked out but instead Eddie has used the money well, kept playing good football and created a side people are finding easy to watch but too hot to handle.
The Captial One Cup run was another little delight for the Cherries, they played some great fluid football with expansion, pace and movement of the highest order. Ok, it is easier when you're confident and winning, maybe that will change should they get promoted but aesthetically they have been the most expensive of desserts.
As a young manager he is still learning, a tough time at Turf Moor for personal reasons saw him return to the coast and clearly it is a match that works, the manager is comfortable there, he is enjoying life and has backing. It's a perfect situation for him.
Of course things can change, a poor run and suddenly he will have 'taken Bournemouth as far as he can' but you cannot question his footballing philosophy, his signings and his ability to manage and motivate a side.
Next up has to be Gary Rowett, a Birmingham City favourite from playing days he has taken the helm of a side that was relegation bound.
He took over a side that had just lost 8-1 to Eddie Howe, he had a massive rebuilding job and immediately made an impact coming in from a Burton Albion squad he had created he started getting results with Blues.
Installing confidence and a positive mindset into a squad bereft of belief under Lee Clark was vital, from day 1 he spoke well about how he saw the side developing but how their character would be tested and now they sit looking up the table rather than below it.
The off the field issues have been well documented from the West Midlands and that means Rowett has had to work with what he has inherited really bar a couple of loans which for me makes his efforts even more admirable.
Some may say Lee Clark under performed and Rowett is doing what is expected of this squad, maybe so but with the Blue side of Birmingham looking at a play-off spot not so long back I would say he has got more than anyone knew this team had out of the squad.
Next season may be the season to properly judge the managerial abilities of Rowett, in a sense he couldn't fail at St Andrews after what had gone before. The fan base were nothing short of suicidal after months of losing, defending and falling like a stone.
Although the football isn't like the matured fine wine that has been produced by Bournemouth it is a masterclass in finding a way, they can mix it a little more in Birmingham, they can be a little more unpredictable and they are trying to find a way to win with management that has some tactical understanding.
To progress further you do feel that Rowett will need resources, signings are needed to push them into a placing of Premier League standards but with him at the helm there's a swagger in a Bluenose walk, a trust in his abilities so you do feel time and if there is any money, it will be available to him.
Finally I have to make mention of Alex Neil who has, like Rowett come into a squad and turned it around.
12 months ago Norwich were fighting for Premier League survival and they were another side struggling to get to the top of the Championship pile until the rather unknown Alex Neil took the helm.
Norwich do have some Premier League quality in their squad, that's undoubted, they have a strong fanbase because of their area and certainly top flight foundations at Carrow Road however the 2nd tier can be an unforgiveable place and reputation means nothing.
Neil walked into a good squad that needed direction and a footballing identity again and that's what he is building, the current form is especially pleasing and gives them a huge hope of promotion to the promise land but the performances have been just as pleasing as the results that they have provided.
Moving the ball across the pitch, at speed and with great understanding is enough to get any commentator going and that is usually the aim of Norwich, they want to keep the ball moving, drive at opposition but be positive in their passing. At any level if you know where your next pass should be and can play in at speed you're going to be a side difficult to contain and that is exactly what Neil has done at Norwich, he has created links between the lines and ensured the side are always looking to take a risk.
Passing and moving seems simple enough but there has to be a level of awareness and a method to it, ultimately a group of players all running in the same direction are useless, just as a bunch of players all moving away from the ball is.
There is a method now, they like to move the ball forward, although can be patient, and finally take their chances they create. Sometimes they don't take the chances, that's football, the laws of average though say they create that much they will score as they frequently move the ball into wide positons to cross into the strikers.
The run-in is upon us, Norwich are fighting to become a Premier League club yet again and Alex Neil has given them a real belief they can make the step up yet again.
Of course there are plenty of coaches and managers I could have opted for to write about, I went for these 3, the comment section below is there for to have your opinion, or if you can fit in in 140 characters tweet us!
---