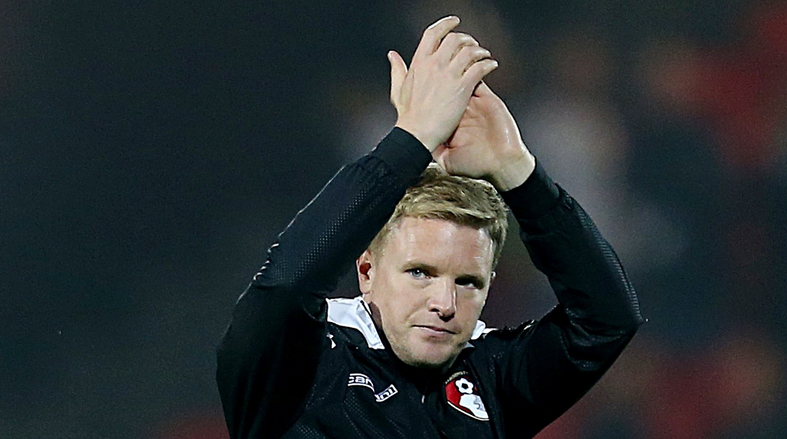 The Rise of AFC Bournemouth
Situated in an English county not necessarily famed for its football, many could be forgiven for not knowing an awful lot about AFC Bournemouth. The south-coast side hold the privilege of being Dorset's only professional football team, so a lot relies on them to fly the flag for the area and try to replicate their close neighbours (Southampton), who achieved back-to-back promotions in recent campaigns. Incredibly, Eddie Howe's side look like they are well on their way to joining The Saints in the top flight, which undoubtedly seemed unimaginable to many Cherries' fans just a few seasons ago. Their elevation to (most likely) the Premier League from the fourth tier of English football has been a remarkable one, but just how have they managed this? Here is a reflection on what has been a fantastic achievement…
            AN OVERVIEW…
            Founded in 1899 as Boscombe FC, AFC Bournemouth are Dorset's only side in The Football League. Their nickname of 'The Cherries' was thought to have come about because of the ground's relative closeness to numerous cherry orchards. The club play at Dean Court, which boasts a capacity of 12,000 supporters. In charge is young Eddie Howe, who, after a previous spell, returned to the south-coast side following a short stint with Burnley. Russian businessman Maxim Demin is the chairman- he took charge in 2011, and reportedly paid a total of £850,000 for his share of the club. The side predominantly play in red and black stripes. Bournemouth's closest rivals- Poole Town and Dorchester Town- do not play in the Football League, and instead, sit in the Southern League, or as it is more commonly known- The Conference South. AFC Bournemouth's rejuvenation in recent seasons has accelerated them even further ahead of their fellow Dorset sides.
            WHAT WENT WRONG BEFORE…  
            The 2008-09 season is not one that AFC Bournemouth fans will need reminding of, as it brought about some of the most troubled times in the club's history. It was in February 2008 when they fell into administration, suffering a 10-point deduction which inevitably put them in amongst the relegation contenders. Bournemouth had debts of up to £4 million, and almost went out of business altogether. Expectedly, they couldn't quite manage to hold onto their then-League 1 status, and were subsequently relegated to League 2.
            It could have been a whole lot worse for Kevin Bond's side ahead of the 2008-09 season, however. The team's future in the Football League was thrown up in the air when the league threatened to block Bournemouth's participation in League 2, due to problems with the team's persisting administration and constant changes in ownership. Along with Rotherham United, they had to 'demonstrate that they could fulfil all their fixtures and find a way out of administration.' Easier said than done.
            It was not looking good for Bournemouth. Having had to pay a 10-point penalty for failing to comply with Football League 'insolvency rules', they found themselves 10-points adrift at the bottom of the lowest tier of English football. Throughout this season, the club had another THREE managers, with Kevin Bond being replaced by Jimmy Quinn, only for the latter to leave just a few months later. Former player Eddie Howe took charge with the club still fighting for their Football League status (initially on a caretaker basis), becoming the youngest manager in the division at the age of 31.
          REJUVENATION….
            Local boy Howe had an instant impact on the declining Cherries. In the final home game of the 2008-09 season, Bournemouth guaranteed their Football League status by beating Grimsby Town 2-1 with a winning goal 10 minutes from time courtesy of Bournemouth legend Steven Fletcher, sparking wild celebrations. It was an incredible effort to make up a 10-point deduction and secure their destiny for another season. 'The Great Escape' was complete. They finished their troubled season with their best away win to date; a 4-0 triumph at Morecambe.
            It proved to be extremely vital that Bournemouth ensured their League status, as the following season saw them take great strides through the heights of League 2. Howe's first season in charge brought success as Bournemouth spectacularly finished second in League 2 to earn promotion with 2 games to spare. This would have seemed impossible considering the relative financial trouble the Cherries were in just a few seasons before, lingering towards the bottom of the standings.
            Now a League 1 outfit, Howe-unfortunately for Cherries fans- left the club to join Burnley, and his successor- Lee Bradbury- led Bournemouth to the League 1 play-offs. Their 2-legged semi-final against Huddersfield Town ended in a 3-3 draw, only for Huddersfield to win the penalty shoot-out 4-2. Bradbury failed to lead the club to another promotion challenge in the following 2011-12 season, finding themselves in 11th place after a season of mixed results, and he was replaced by youth team coach Paul Groves. But things were definitely starting to look up on the south coast…
            Groves remained in charge at the start of the 2012-13 season, only to be sacked in October 2013 after a start which left the Cherries situated near the bottom of the table.
            It was becoming a common theme for Bournemouth to change their choice of manage quite regularly, but their next boss was one that would eventually lead the Cherries onto greater things: Eddie Howe.
             He returned to his boyhood club after an unsuccessful stint at Burnley, and not only did he pull the club away from their early-season relegation troubles, but he also masterminded their promotion to the Championship, placing Bournemouth in the second-tier of English football for the first time since 1990.
            The club were really starting to move forward, and made a very promising start to life in the Championship, and had somewhat of a relative chance of reaching the play-offs. In the end, though, the Cherries finished in an extremely respectable 10th place; their highest ever position in the Football League.
            Nobody needs reminding of where the club find themselves at now. Bournemouth are currently coming towards the end of a very successful second season in the Championship, sitting in first position as I write this. Many clubs can undoubtedly take time to get used to the step up from League 1 to the Championship, but the Cherries seem to be ready to take the next leap after just two years in the job.
            It is extraordinary how Bournemouth seem comfortable- almost too comfortable in fact- sitting at the top of English football's second-tier. They have scored more goals than anyone this campaign- scoring 87 goals with just 41 games gone- and this includes an emphatic 8-0 win at St Andrews in October against Birmingham last year; the first time the Cherries had ever scored eight goals in a league game. They have risen to this from the depths of English football- many people fail to realise just how recent ago it was when Bournemouth were plunged into administration, sitting at the bottom of the Football League.
            Now they sit at the top of it, and the Premier League beckons… 
---